First time driving in Europe?
Tolls in Europe (France, Spain, and Portugal).
If you are a seasoned traveller in Europe, you may not need the following but for a first-time traveller it is as well to be informed. Forewarned is forearmed as they say.
Not all roads abroad are toll roads, Many are toll free. However, the main artery through France and parts of Spain and Portugal have a barrier as you slip off the road that you are travelling on to join a major route. There is usually a bank of toll or paying stations that you have to go through and pay before the barrier lifts to allow you on your journey.
Usually, you take a ticket from the ticket machine on entering the road and pay at the exit. But not always.
From the large display of toll fees/class of vehicle you will need to decide which toll fee you need to pay.
Negotiating tolls.
Some tolls are manned, so there is little problem. But if you happen on an unmanned toll you might find that:
You are in a right-hand drive vehicle. Unless you have a passenger who can deal with the payment or ticket you will have to get out of the vehicle. This will inevitably cause much honking of horns, black looks and fist-shaking from irate drivers behind you.

You attempt to insert the credit card from inside the car (left-hand drive or passenger in a right-hand drive). It might get stuck. It happened to me once and all attempts to follow instructions only ended in the card being snatched by the machine. Frantic signals to the lady in the far toll booth followed. She strolled across, oblivious of the queue, took the card, strolled back to her booth to process the card and strolled back to give it to me. All the while my husband was getting stressed and the bother and keeping the heavily laden Gold Wing touring bike upright.

You are on a motorbike and need to pull up close in order reach the ticket machine. Balancing and keeping the bike upright while avoiding diesel spills is an art. A passenger who can do the paying helps. I used to keep the credit card in the little zipped pocket of my jacket for ease.

You decide to pay cash and miss the basket. Enough said.
Solution. You fit a transponder before you go.
What is a transponder? It is a little box that you fix onto the inside of the windscreen behind the driving mirror. It is full of your car and card details. Technology- good use of.
France - Liber-t box Categories 1,2,& 5.
Spain - Via-T box All categories
Via Verde Box Class 1
https://www.tolltickets.com/en/
We first learned about these when doing a fly/drive in Portugal a few years ago.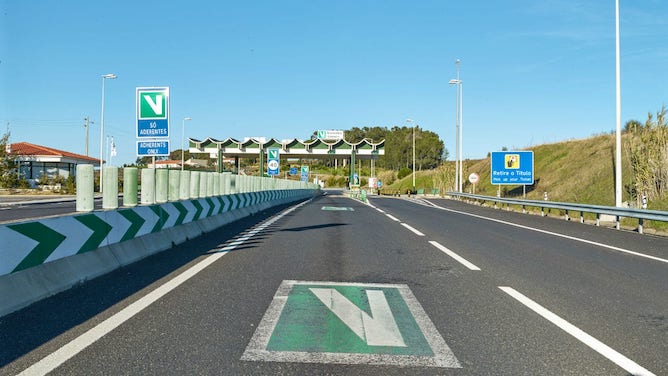 Collecting the hire car at the Europcar check-in desk in Lisbon Airport, we were asked how far we were travelling.
'Castelo Branco' we told the agent.'
Castelo Branco is in Central Portugal and we intended to use the motorway as far as here before turning of into the countryside and national and regional roads.
'There are no toll stations once you get there. It is all cameras. They pick up your number plate and you have to pay within a certain time or you will be fined.' 'You can have a transponder and have the fees charged to your credit card.'
This we did and were thankful as, once out of Lisbon area we never saw, a toll station and indeed, we did not see any cameras. The proof was in the pudding so to speak when lots of little figures appeared on our credit card.
Fast forward to 2016.
On previous tours through France, we had always wondered what the toll station with a big

t

sign was for. Evidently you needed a French bank account before you could use this
facility. Now things had changed and the system had been expanded and non-french tourists could use the system. We also found that the numbers of toll stations with the
t
sign had increased massively. Slowing down as we approached the toll station, the camera clicked, the barrier lifted and we sailed through - all without stopping.
Our return visit to Central Portugal was by car, driving through France and Spain before turning west into Portugal - where we would not be using motorways. A Google search soon brought us to a company in the Netherlands called Toll Tickets. It was so easy. We ordered a Liber-t for France and a Via T Box for Spain.
What not to like.
In Spain it was also easy but the signs are different. They look something like a T shirt but may be a kind of motorway sign. Just do your homework and follow the signs. driving to Central Portugal over the Pyrenees, we found that the tolls stopped after Burgos in Spain. However, on our last visit, we returned further south via Madrid to Zaragoza as we were heading over the Pyrenees to Lourdes in France. On this route motorway tolls were more prevalent.
But so easy and stressless!
Images courtesy Google images.
Rosalie
xx
discover-rosalie.com